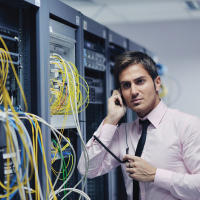 Harleysville, PA - April 22, 2013--The Nilear team is proud to announce the new Score my Team module, Ticket Timesheet Analysis, which is now live.
Ticket Timesheet Analysis increases time charged against tickets as well as improves time entry accuracy, leading to fewer invoice disputes. This differs slightly from Timesheet Analysis, which focuses on billable and project time entries. Ticket Timesheet Analysis calculates employees scores based on minutes charged against tickets and then removes points when time entry mistakes are found. Scoring for this module is similar to Timesheet Analysis in that points are removed for not setting the correct Work Type on a time entry, providing no notes for a billable time entry or having the time entry notes modified by the company's time approver. Power point slides with additional information for Ticket Timesheet Analysis are available at https://www.nilear.com/TicketTimesheetAnalysis.pptx.
Real-time Ticketing scores can now be added to one's ScoreCard as either total points accrued (Real-Time Ticketing) or as one's average Real-Time ticketing score (Real-Time Average). This option can be selected within the scoring categories on the ScoreCard Set-Up page. In addition, an update has been made to Real-time Ticketing points; monitoring tickets are now worth one half of the points of service tickets rather than one quarter as it was previously.
An update was also made to Configuration Analysis; when an Account Manager or Primary Tech has achieved a 100% score on Configuration Checklist, their Configuration Analysis scores are multiplied by 1.5 rather than 1.0 as an additional bonus for achieving 100% coverage.
Nilear Live now has the option to disable Like broadcasts and Peer Review broadcasts. You can send Nilear Chat a "Likes Off" command or "Reviews Off" command to prevent receipt of those broadcasts and can send a "Likes on" or "Reviews On" command to resume broadcast delivery. These settings can also be disabled when signed into your Nilear account on the Nilear Live page.
About Nilear OS
NilearOS is an all-inclusive Operations Suite that provides Automation, Performance Metrics and Document Management for ConnectWise. The product suite includes programs such as ConnectActive, ClientMapper, Score My Team, My Tickets Mobile, Schedule Sync, Configuration Station and Nilear Live.
About Nilear, LLC
Nilear, LLC is a division of Christo IT Services, an MSP based in the Greater Philadelphia Area. The majority of the NilearOS products were developed in-house to help improve services and reduce labor costs for the MSP business. For more information, visit www.Nilear.com or contact us at .