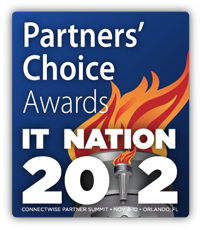 Harleysville, PA, November, 2012––Nilear announced today it has won the IT Nation Partner's Choice Award in the category of Outstanding Software Solution at the 8th annual IT Nation Partner Summit, November 8-10 at the Hilton Orlando Bonnet Creek. IT Nation attendees voted for their top choice in each category during the event in Orlando.
ConnectWise, developer of the leading service management software designed exclusively for IT service providers, VARS, ISVs and MSPs, presented Partner's Choice awards in the categories of Outstanding Software Solution, Outstanding Hardware Solution, Biggest Buzz, Best Channel Program, Best Revenue Generator, Best Breakout Session, Best Newcomer, and Best in Show for two years.
"We are grateful to ConnectWise IT Nation attendees for recognizing our hard work and dedication to the success of their businesses and their bottom lines," said Chris Schalleur, "It's an honor to receive this award from the IT Nation directly, from our peers and our valued partners."
"Our Partner's Choice Awards recognize vendors bringing their 'A' game when interacting with the IT Nation", said Jeannine Edwards, Director, ConnectWise Community. "We salute them!"
IT Nation 2012 attracted 2,000 people, more than 100 breakout sessions, a solutions pavilion and more. The premier conference for users of business automation software and IT services software, IT Nation provides the managed services industry with the opportunity to connect with peers, learn about new solutions available in the marketplace and adopt go-to-market solutions that will improve their businesses today and well into the future.
For a full list of winners please see
http://www.theitnation.com/blog/item/77-it-nation-2012-partners-choice-award-winners
About Nilear
Nilear, LLC is a division of Christo IT Services, an MSP based in the Greater Philadelphia Area. Nilear offers an all-inclusive Operations Suite that provides Automation, Performance Metrics and Document Management for ConnectWise. The product suite includes ConnectActive, ClientMapper as well as Score My Team, My Tickets Mobile, Schedule Sync, Configuration Station and Nilear Live. The majority of the NilearOS products were developed in-house to help improve services and reduce labor costs for the MSP business. Nilear continues to develop and distribute proven, effective and affordable software that increases productivity for MSP professionals. For more information, visit www.Nilear.com or contact us at .
About ConnectWise
Designed exclusively for the IT Channel, ConnectWise is the leading business management solution for service providers, MSPs, technology consultants, integrators, and developers. Today more than 69,000 IT professionals rely on ConnectWise to achieve greater accountability, operational efficiency and profitability. ConnectWise fully integrates CRM, sales, help desk ticket and tracking, project tracking, IT service management, SLAs, dispatch scheduling, mobile IT services, time and expenses into a singular IT management software to dramatically streamline IT companies. For the last 29 years, ConnectWise has become the premier business operating system for IT solution providers. ConnectWise APIs are accessed by over 300 organizations, including ConnectWise partners and industry leaders of the IT Nation. For more information visit www.ConnectWise.com or call 800-671-6898.